Speed and precision in urgent shipments - Trust us for reliable airfreight solutions
Our air freight/expedited team offers a wide range of domestic air freight services and competitive pricing to meet your shipping needs.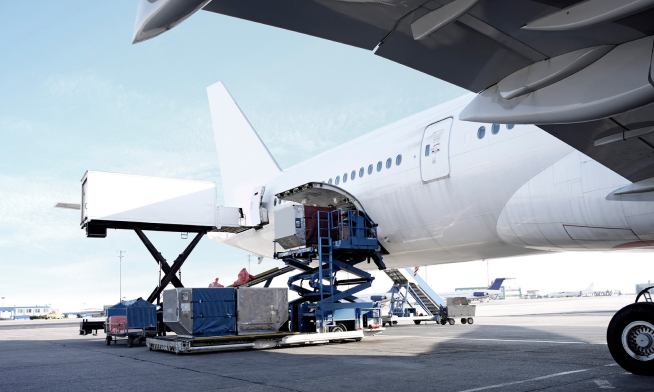 Available seven days a week, 365 days a year, our team of routing specialists ensures that the service is tailored specifically to your air freight transportation requirements.
Whether you need express, standard, economy, or charter services, we have the options to accommodate your air cargo shipping and timeline.

Urgent shipments? Trust our NFO and AOG solutions for swift delivery! 
We understand the importance of urgent and critical shipping needs, offering Next Flight Out (NFO) and Aircraft on Ground (AOG) solutions. Our NFO service ensures swift deliveries, transporting time-sensitive cargo on the next available flight to meet tight deadlines efficiently.
In AOG situations, we respond promptly, delivering essential parts and equipment to grounded aircraft, minimizing downtime, and ensuring a quick resumption of flight operations. With a dedicated team and efficient logistics, we guarantee speed and precision in handling urgent shipments, providing peace of mind for time-critical deliveries and urgent aircraft maintenance needs.
Your complete air freight solutions
We specialize in urgent Aircraft on Ground (AOG) situations, providing prompt and reliable transportation of critical parts and equipment to get grounded aircraft back in the air quickly. Our dedicated team and extensive network ensure swift responses and efficient deliveries, minimizing downtime and disruptions to flight schedules. Aircraft operators and maintenance teams can trust that their urgent needs are in capable hands with us, allowing them to resume safe operations in the shortest possible time.
We offer Next Flight Out (NFO) solutions, ensuring swift and time-sensitive deliveries for urgent shipments. Our dedicated team and efficient logistics ensure that critical cargo is delivered on the next available flight, meeting tight deadlines and minimizing delays. Whether it's crucial documents, vital medical supplies, or high-value goods, our NFO service ensures that shipments reach their destination with speed and precision.
For specialized cargo needs, we excel in handling project cargo. Our frieight forwarding team ahs the expertise to manage complex shipments and unique challenges, ensuring that your cargo reaches its destination safely and efficiently. Additionally, our Air Charters cater to large and urgent shipments as well as break bulk cargo, providing dedicated and efficient flights to handle time-sensitive deliveries with utmost care.
When you partner with us, as your trusted 3PL provider, you can book air freight charters with confidence. Specially designed for the largest and most time-sensitive shipments, our air freight charter services offer a reliable solution to meet your urgent needs. With our expertise and network, you can ensure your cargo reaches its destination promptly and securely through dedicated and efficient charter flights. Rest assured; your critical shipments are in capable hands with the freight forwarding team at Jillamy.
An advantage of choosing a 3PL like us for oversized air freight solutions is our specialized expertise in handling larger-than-normal cargo. Leveraging our experience in managing such unique shipments, gives you the benefit of streamlined logistics, efficient loading and unloading processes, and secure transportation. Our dedicated team ensures that your oversized cargo is well taken care of throughout the entire journey, giving you peace of mind and a reliable solution for your specialized shipping needs.
Comprehensive logistics solutions: Transloading, freight forwarding, and warehousing
From Air to Land with Ease
We offer Transloading services to seamlessly transfer goods between different modes of transportation, including air freight. This ensures efficient cargo movement, whether it's transitioning from ships to trucks, trains, or planes, minimizing delays and maximizing efficiency.
Streamlined Ocean Freight Excellence
We provide ocean freight forwarding solutions designed to enhance your international shipping experience by sea. Our expertise in booking, documentation, customs compliance, and route optimization ensures the safe and efficient transport of your cargo. We also offer guidance in container selection, insurance, and risk management, enabling your business to navigate the complexities of logistics with ease and peace of mind.
Efficient Inbound Freight Solutions
Efficient warehousing solutions for inbound international freight from the port are essential for optimizing your supply chain. At Jillamy, our strategically located warehouses offer secure storage and distribution, with advanced inventory management systems for real-time visibility. Whether for short-term storage or value-added services, our solutions are tailored to meet your needs, ensuring a seamless flow of goods. Trust us to streamline your inbound international freight process with expertly managed warehouses.
Swift and secure: Our dedicated and part-charter flights for urgent shipments
LET'S TALK ABOUT YOUR NEEDS
We are here to support your supply chain management and deliver reliable warehousing solutions that drive your business forward.